Arrival: How to reach us!
Arrival by By bus or train!
As an Alpine Pearls Host we recommend that you start your environmentally friendly holiday in a relaxed way: Just hop on the train or bus and enjoy the scenery as the alpine landscape rolls by.  A lot of railway routes in the Alps are very nice so that the trip itself becomes an unforgettable experience. Just start your travel without any stress at your next train station!
Our valley is well connected to the international railway network and therefore you can easily reach us by train from all over Europe. Start at your nearest train station – your arrival station is Bressanone. From there, an hourly direct bus (line 340) takes you to S. Maddalena/Funes. The bus stop is within walking distance from our farm. Upon request, we will be happy to pick you up from the bus station or the arrival station.
Schedules and tickets:
Bus connection and timetables: www.sii.bz.it
Arriving by car:
On the Brenner Motorway, exit at Klausen / Chiusa. Then continue about 2km on the main road towards Bressanone. Then turn right and follow the signs Villnöss / Funes. After 15km you reach the village of S. Maddalena. At the first intersection, continue straight on the main road to the ski lift. There turn left and then to the left again. Right past a bridge continue straight on after the farm Profanterhof, where you will find the sign Proihof. There, turn left and at the end of the road you'll see our farm.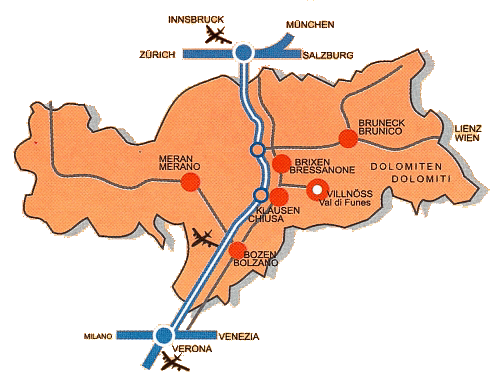 Have a safe and comfortable journey!